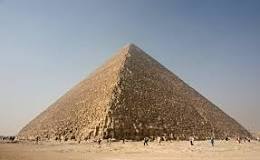 A bit of a change of pace today. I've grown a little tired of politics. Although there is plenty to say, what with everything that's going on, I think we've all had enough of it. I thought I'd turn to history instead. So, just what does a quote from a fictional character have anything to do with history, I hear you ask. Well, bear with me and please go back to the quote once you have read my piece.
Egyptology has long been a favourite period in history for a lot of people. You can find plenty of weighty tomes on the subject in any bookshop or library. Experts have pondered all of the big questions and their answers are there for us all to read. Only the other night, I watched a fascinating program on some of the new tombs that are being discovered. The enthusiasm of the archaeologists was quite infectious and it is easy to see why people believe every word that they hear.
The Facts
Take for example the Great Pyramid that sits majestically on the Giza plateau. Approximately 2,300,000 blocks and large stones went into its construction, the average weight of each being between 2 and 30 tons. Some of the larger blocks weighed up to 70 tons and there are about 600,000 that fall into this category. Just how were these blocks cut from the ground I hear you ask. Good question! With copper chisels is the answer. Seriously! Copper!
Have a dig around in your shed or garage and see if you can find a length of old copper piping and have a go at a rock yourself. The soft copper pipe won't last too long before there's nothing left of it. Of course, experts can explain this. The workers got through about eight or so copper chisels a day. For over 2 million blocks of stone! That's a lot of chisels. I think B&Q still have a ton of them on back-order. But they had to be made from copper as this was the metal that was available to us at this time. Approximately 2,500 b.c. Again, if the experts are to be believed.
Expert Opinion
Let's leave that to one side for a moment and have a look at another "fact". Just how did all of those stones and blocks get in to place. One theory is, that once they were quarried from the ground, they were floated up the Nile on boats. Again, I saw another program about this. They constructed a boat based on drawings from the time and then attempted to float it down the Nile. The block they used was about 2 tons and after much effort, they barely made it over to the other side of the river. Every slight eddy and wake threatened to tip the boat over and if the stone wasn't bang in the middle, they stood no chance.
Now, lets ignore the fact that they used modern lifting equipment to get the block onto the boat, are you really trying to tell me that this is how the ancient Egyptians moved 2 million blocks of stone. Again, I don't so! 
Let's also put that to one side. Boy it's starting to get crowded on the side over there. The blocks have all been transported to site and now we're ready to start building. Just how was it done. One theory is that the Egyptians built a ramp. Perfectly feasible, until you reach a certain height. Bear in mind, the Great Pyramid is 139 metres high.
Plus, you don't want a slope that is too steep, as you just won't be able to push/drag the blocks up it. Now, for those of you who remember you trigonometry, it would be quite easy to work out the length of the hypotenuse, or the slope of the ramp if you prefer. Without boring you with the maths, it would be miles long. It would be a greater feat of engineering than the pyramid itself.
Whatever Remains is the Truth
I could go on, but you get the gist of it. When you look at the "facts" that are presented to us about how the pyramids were built, they just don't stack up. So what is the answer? They were built by survivors of the lost city of Atlantis? Or perhaps there was alien intervention? There's a ton of speculation on how the pyramids were actually built and some of them make quite amusing reading. One thing is for sure, the ancient Egyptians had access to technology that was way more advanced than we originally thought. It's the only thing that makes sense. When you remove everything that is impossible.
You ask any modern engineer, how long would it take to construct a copy of the Great Pyramid, to the same dimensions and to the same accuracy and the answer will be the same. It can't be done. Although, that's not the truth is it? It already has been done. You can go and visit it. Touch it with your own hands and see it for yourself. Someone built it.
Conclusion
The answer? We need to keep asking questions and stop accepting what we are told. There are hundreds of pyramids across the globe and they are finding more all the time. Not to mention the giant heads of Easter Island, the giant Olmec heads of South America; not to mention Stonehenge and all the other neolithic monuments scattered around the world.
Somewhere in the annals of time, the answer to how these things have been built has been lost. Perhaps there once was a race of human beings that was far superior to what exists today. Maybe the legend of a great flood isn't that far fetched and this is when this race of super beings met their doom. But that's crazy right? You need a global catastrophic event for something like that to happen. Like a massive ice age that ended suddenly engulfing large sections of the planet in hundreds of feet of water.
But surely, that didn't happen. Did it? Well, it might explain why there is so much ancient sea-life encrusted into the sandstone that makes up the Sphinx.
But that's another story.