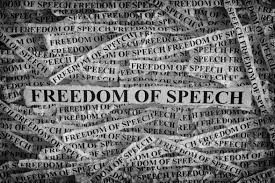 It seems that whatever we say these days seems to offend someone. Everything and everyone has been identified and labelled and that is what they must be referred to as.
What about freedom of speech though? Didn't somebody once say, that for speech to be truly free, someone will end up taking offence. That's all well and good, I hear you say, but we don't want to encourage hate-speak. Hate-speak, just what is that? It sounds like something straight out of a George Orwell novel. Yet another label to bend and guide what we do and don't say.
Don't get me wrong, I'm not advocating that we should put up with extreme opinions, just because it is free speech. The incitement of hatred and violence is never justified in the pursuit of voicing an opinion. But surely, the censorship of such opinions lies in our hands and not in the politicians and the policy setters.
If somebody is spouting off about some nonsense, just walk away. Don't read that blog, or post. Delete that email, or article. Starve these things of the publicity they crave and they will quickly fade away. Instead, support the things you believe in and that mirror your own opinions.
After all, they are only words. How many times have we heard a comedian tell a joke that is "politically incorrect", (don't you just hate that term!), only to be told, "it's all right, that person, is Jewish/black/disabled", (delete as applicable). Does that make it okay though? If a person in a wheelchair tells a joke about someone with no legs, should we laugh? Of course we should! They're a comedian and they'll sell more tickets if we all laugh at their jokes! On a serious note though, surely it's down to the intent. We know that the words they use are not meant to offend and that is the key.
If someone were to call you thick, I hope that you would be offended. However, if a waiter asked you if you wanted a thick steak, you wouldn't think anything of it. It's all down to the word's intention.
So, in conclusion, should there be absolute freedom of speech. Of course there should! But the caveat should be, we should choose our words carefully and we should mean every one of them. We should also be prepared to suffer the consequences of them. Certain figures in history have done just this and have gone on to make an enormous difference. People like Martin Luther King and Nelson Mandela chose their words very carefully. They stood by them and in the end, hopefully, the will surely make a difference.
As the saying goes, talk is cheap, but speech should be truly free.