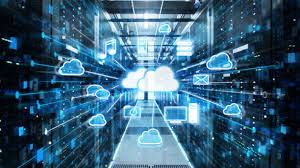 You used to get asked, "Have you saved your work?" That's changed to, "Have you backed up to the cloud?" As you know, it's important to save your work, you don't want to lose everything. But are saving and backing up to the cloud the same thing?
You would be forgiven for thinking they were. Until you actually start to consider what the "cloud" actually is. "Duh! Do you think I'm stupid", I hear you cry. "The cloud is just a remote, virtual computer that allows you to log into your data from wherever you have internet access".
Yeah, that's kind of right, but there's more to it than that. "There always is with you", I hear you sigh! For those of you that have read some of my previous ramblings, you may have guessed that I am involved with the world that is the Technology of everything Information based. I have basically sold IT to the world for over twenty years and have seen many things come and go.
A while back, when the cloud was still in its infancy, I was asked to attend a meeting where my customer was being sold the concept of migrating everything they did onto the cloud. In that meeting, I sat and listened as we were told that the cloud was the future. Companies would no longer need to be tied into lengthy and expensive contracts in order to maintain their IT infrastructure. No more complicated maintenance plans. No more worrying about whether you had the right level of software, or whether you had applied the latest patch. All of this was taken care of for you. And, at the fraction of the cost of doing it all in-house. It sounded just too good to be true. It was.
I was sceptical. Whilst initially, there did seem to be cost savings, I was worried about the loss of control. Currently, if my customer's system went down, they had a contract in place to ensure that had a workable solution within a given period of time. The cost of this service was fixed and if the provider tried to raise that cost, my customer could shop around for a better deal elsewhere. After much research, I advised my customer against going the cloud route. I felt for them, it wasn't the right solution. The information they held and the customers they dealt with were too sensitive in my opinion. What do I know though? They chose to migrate everything to the cloud.
Fast forward a few years and I receive a panic call from my customer. They are having terrible problems accessing their systems and it has brought their whole company to a halt. It gets worse though. On contacting the company who now host their systems, they are told that they are experiencing "financial problems" and in order for my customer to have their systems turned back on, they would have to pay a fee. This was quite a considerable sum of money. Of course, my customer refused and they informed the relevant authorities.
Apparently the hosting company were in dire straits and in order to try and raise some cash in order to buy their way out of trouble, they had held a number of their customers to ransom. Eventually, the hosting company were prosecuted, the directors were heavily fined and the company was dissolved. The problem is, the impact that this had on my customer was huge. They did finally get their systems turned back on, but it took days. The loss of business that it caused them, almost took my customer down as well.
It could have been worse though. Worse! How could it possibly be worse though, I hear you cry. Well, the hosting company could have said nothing and just closed up and my customer would have lost everything. And it wouldn't have just been my customer, it would have been countless other companies as well. Maybe even yours, or the company that you work for.
So, the next time you are backing up to the cloud, or flicking through all the pictures that you have stored remotely, just ask yourself this. Are you really happy to have someone else look after all of your data and personal details? But, more importantly, do you have the ransom money to pay when it all goes wrong!?